Cape Cod Spiced Chicken Sliders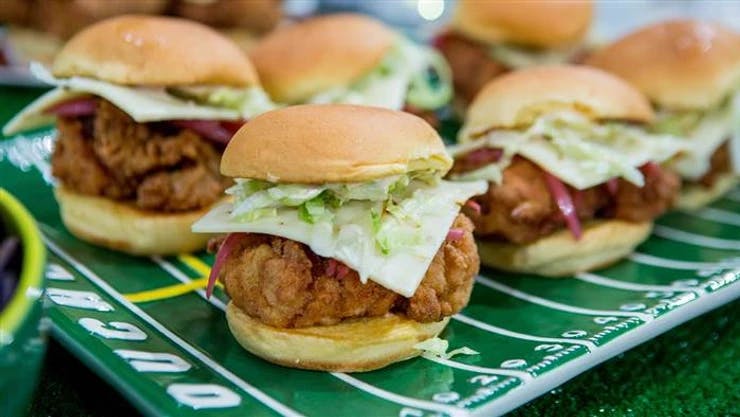 Cook time: 30 minutes
Prep time: 30 minutes
Yield: 4
There is nothing better than a juicy fried chicken sandwich. Adding a little Cape Cod seasoning just ups the level of flavor. Spice from Pepper Jack cheese and acidity from pickled onions pairs perfectly with crunchy lettuce and a soft buttered bun.
Technique tip: Toasting the buns with a slathering of butter prevents the sliders from getting soggy.
Ingredients
Pickled onions
1/4 pound red onions, sliced
1/2 cup red wine vinegar
1/2 cup water
1/4 cup sugar
1/2 teaspoon salt
Spicy mayo
1 cup mayonnaise
1 tablespoon hot sauce, preferably Tabasco
2 teaspoons Dijon mustard
1 tablespoon red wine vinegar
Salt and freshly ground black pepper, to taste
Cape Cod seasoning
1 tablespoon salt
1 tablespoon bay leaves, ground
2½ teaspoon celery salt
1½ teaspoon dry mustard
1½ teaspoon freshly ground black pepper
3/4 teaspoon ground nutmeg
1/2 teaspoon ground cloves
1/2 teaspoon ground ginger
1/2 teaspoon paprika
1/4 teaspoon cayenne
Fried chicken
Four 2- to 3-ounce chicken thighs, excess fat removed and slightly pounded
1 cup buttermilk
1 tablespoon hot sauce, preferably Tabasco
2 tablespoons Cape Cod seasoning (recipe above)
2 cups self-rising flour
2 cups maseca instant corn flour
Vegetable oil, for frying
Salt and freshly ground black pepper, to taste
To serve
4 slider size slices Pepper Jack cheese
1/2 cup shredded iceberg lettuce
4 potato slider rolls, preferably Martin's
1 tablespoon butter, softened
Preparation
For the pickled red onions:
Place the onions in a container. In a small pot, bring the vinegar, water, sugar, and salt to a boil. Then pour over onions and let sit for a minimum 1 hour overnight.
For the spicy mayo:
In a small bowl, combine the mayonnaise, hot sauce, mustard, and vinegar. Season with salt and pepper to taste. Cover and refrigerate until ready to use.
For the Cape Cod seasoning:
In a small bowl, mix all ingredients until evenly distributed.
For the fried chicken:
1. Add the chicken, buttermilk, and hot sauce in a bowl. Cover and refrigerate for at least 2 hours.
2. Meanwhile, in a medium bowl, mix the Cape Cod seasoning, flour, and maseca.
3. When chicken is done marinating, heat a heavy skillet with about 1 inch of vegetable oil over medium-high heat until the oil reached 350°F.
4. Remove the chicken from the buttermilk mixture and dredge in flour mixture. Then place in the oil and fry for approximately 6-7 minutes or until internal temperature is 165°F. Remove from oil and drain on a paper-towel lined plate. Season with salt and pepper while still hot.
To serve:
Brush the inside of the rolls with butter. Then griddle them until slightly toasted. Place fried chicken, pickled onions, Pepper Jack cheese, shredded lettuce, and spicy mayo on a bun and serve immediately.