Deviled Egg Toast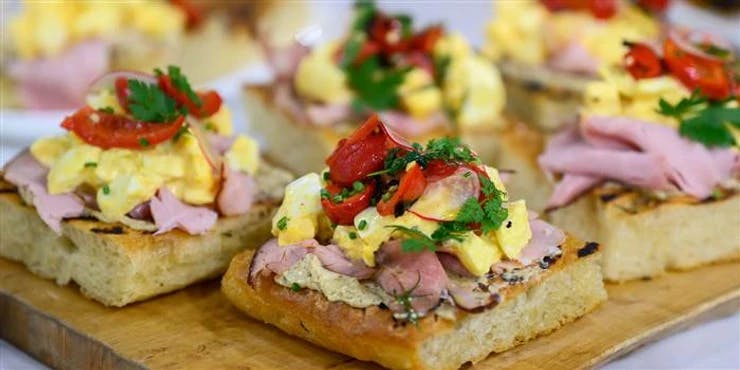 Servings: 4
I love deviled eggs. Honestly, who doesn't? So I wanted to come up with a fun and original spin on the classic dish but still keep it really yummy. The bread is very important. Make sure to use the best, high-quality focaccia you can find for this one.
Swap option: You can use store-bought hot cherry peppers, but making your own adds a whole new dimension of flavor.
Ingredients
Neutral vinaigrette (makes about 2½ cups)
1/2 cup white wine vinegar
1 tablespoon Dijon mustard
1 cup extra virgin olive oil
1 cup blended oil
Salt and freshly ground black pepper, to taste
Chargrilled butter
1 cup unsalted butter, softened
2 tablespoons extra virgin olive oil
1½ teaspoons Worcestershire sauce
1½ teaspoons lemon juice
1½ teaspoons white wine
1½ teaspoons freshly ground white pepper
1½ teaspoons freshly ground black pepper
1½ teaspoons granulated onion
1½ teaspoons granulated garlic
1½ teaspoons Italian seasoning
1/2 teaspoon liquid smoke
1/2 teaspoon salt
Deviled egg toast
10 eggs
1 teaspoon salt, plus more for seasoning
1 teaspoon white vinegar
1 tablespoon Dijon mustard
2 tablespoons mayonnaise
1 tablespoon lemon juice
1/2 teaspoon hot sauce
1/2 teaspoon Worcestershire sauce
1 pinch cayenne pepper
Freshly ground black pepper, to taste
4 slices focaccia bread, grilled or toasted
4 tablespoons chargrilled butter (recipe above)
4 slices very thinly sliced country ham or prosciutto
1/4 cup hot cherry peppers
1/2 cup fresh mixed herb leaves/pieces (such as parsley, dill, chives, chervil)
2 radishes, thinly shaved
1 teaspoon neutral vinaigrette (recipe above)
Preparation
For the neutral ingredient:
Mix the white wine vinegar and Dijon mustard together. Then slowly whisk in both oils to emulsify. Season with salt and pepper. This dressing will keep for up to a month in the refrigerator.
For the chargrilled butter:
Place all ingredients in a stand mixer with the whip attachment. Whip until light and airy.
For the deviled egg toast:
1. Place the eggs in a heavy pot, cover with water by an inch, add 1 teaspoon of kosher salt and the white vinegar and boil for 10 minutes.
2. Meanwhile, prepare an ice bath by filling a bowl with ice water to cool the eggs completely.
3. Once the eggs are finished, gently crack them by rolling them against a counter. Peel the eggs carefully, then dice them and set aside.
4. In a bowl, whisk together the mayonnaise, Dijon mustard, lemon juice, hot sauce, Worcestershire, cayenne, and season with salt and pepper. Mix with eggs and set aside.
5. In a second bowl, mix together cherry peppers, herbs, radishes, and vinaigrette.
To serve:
Place warm focaccia on a plate and liberally smear it with chargrilled butter. Top with sliced ham then egg mix and garnish with hot pepper salad. Serve immediately.