Duck Confit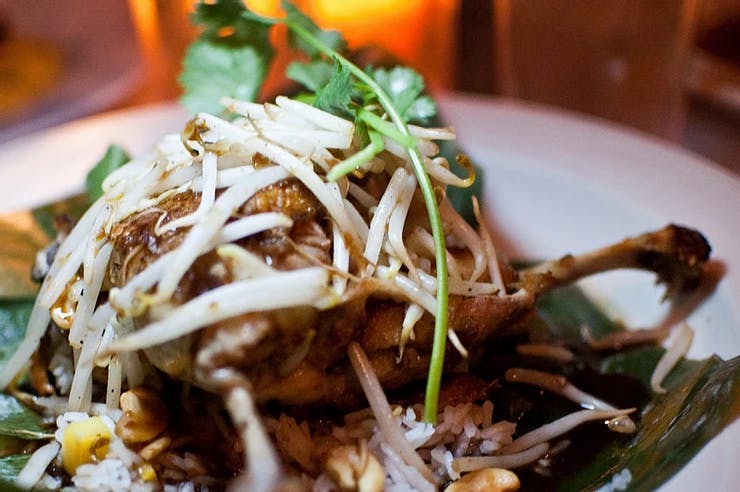 Honey & Hoisin Glazed Duck Confit
Sweet sticky rice, mango, cashews & coconut milk
Serves 4 as an entree
Duck:
Mango Sticky Rice:
1 package banana leaves
1 ripe mango, diced
2 1/2 cups thai sweet sticky rice, soaked in water
1/2 cup
Coconut milk
1/2 cup white sugar
1 tsp. salt
Hoisin Glaze:
1/2 cup hoisin
1/2 cup oyster sauce
1/2 tsp. chile paste
1/2 tbl. soy sauce
1 1/2 tbl. honey
2 tbl. sesame oil
2 tbl. ginger, minced
2 tbl. garlic, minced
Garnish:
1/2 cup cashews
1/2 bean sprouts
Uts
12 sprigs cilantro
2 cups canola oil
For the Sweet Sticky Rice
Place rice in a steamer, steam for 10-15 minutes. Mix the coconut milk, sugar, & salt and bring to a simmer, add to cooked rice and fold in mango. Wrap with banana leaves and tie with butchers twine. Steam for an additional 5 minutes.
For the Duck Confit
Heat canola oil in a large sauté pan and pan fry duck confit until crispy on both sides.
For the Hoisin & Honey Glaze
In a small pot sauté ginger & garlic in sesame oil then combine hoisin, honey, oyster sauce, chile paste, soy sauce, and mix.
Plating
Reserve 2 tbl. canola and sauté bean sprouts briefly then add hoisin & honey glaze. Place rice wrap in bowl and open. Top with duck confit then bean sprout mixture. Garnish with cilantro & cashews