Grilled Baby Back Ribs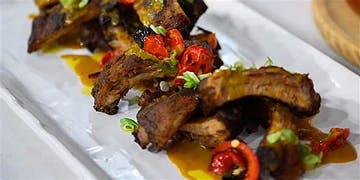 Servings: 4
I know wrapping something in plastic and then putting it into the oven might sound crazy, but trust me on this one. Wrapping these ribs in plastic wrap keeps all the moisture inside, almost steaming them. I personally promise that these are the most tender and juicy ribs you will ever eat.
Swap option: You can use store-bought hot cherry peppers, but making your own adds a whole new dimension of flavor.
Ingredients
AKA rub (makes about 3 cups)
1/2 cup light brown sugar
1/2 cup granulated sugar
1/2 cup paprika
1/4 cup salt
1/4 cup ground cumin
1/4 cup ground black pepper
2 tablespoons chili powder
2 tablespoons garlic powder
2 tablespoons onion powder
1 tablespoon mustard powder
1 teaspoon dried thyme
1 teaspoon crushed red pepper flakes
1 teaspoon cayenne
1/4 teaspoon Old Bay seasoning
Carolina gold sauce (makes about 2½ cups)
1 cup apple cider vinegar
1 cup honey
1/4 cup Vermont maple syrup
1/4 cup dark molasses
1½ teaspoons fresh thyme leaves or 1/2 teaspoon dried thyme
1½ cups yellow mustard
1½ teaspoon salt
3/4 teaspoon crushed red pepper flakes
1/2 teaspoon nutmeg
1/2 cup grated onion
Ribs
1 rack baby back ribs
1 cup AKA rub (recipe above)
Salt and freshly ground black pepper, to taste
1 cup Carolina gold sauce (recipe above)
1/4 cup thinly sliced scallions
1 cup pickled hot cherry peppers
Preparation
For the AKA rub:
Mix the ingredients and store them in an airtight container in a cool, dry place for up to a month.
For the Carolina gold sauce:
In a saucepan, combine the vinegar, honey, maple syrup, molasses, thyme, mustard, salt, red pepper flakes, and nutmeg and bring to a simmer. Remove from the heat and mix in the onion. Serve hot or cold. This can be refrigerated for up to 2 weeks.
For the ribs:
1. Preheat the oven to 275°F.
2. Rub the rack of ribs liberally with the AKA rub and then season with salt and pepper.
3. Wrap the ribs in plastic wrap, then wrap in aluminum foil and place on a baking sheet. Cook for 3 hours, until the meat is very tender but still has a tug. Place the ribs into the refrigerator and wait patiently until the ribs are cold (this will make them easier to cut).
4. Preheat grill to medium-high heat.
5. Cut ribs between each bone and place the ribs on a hot grill and cook until hot with a nice crispy texture, about 3-5 minutes.
6. Toss the ribs in Carolina gold sauce, and garnish with scallions and hot peppers. Serve immediately.