New England Street Corn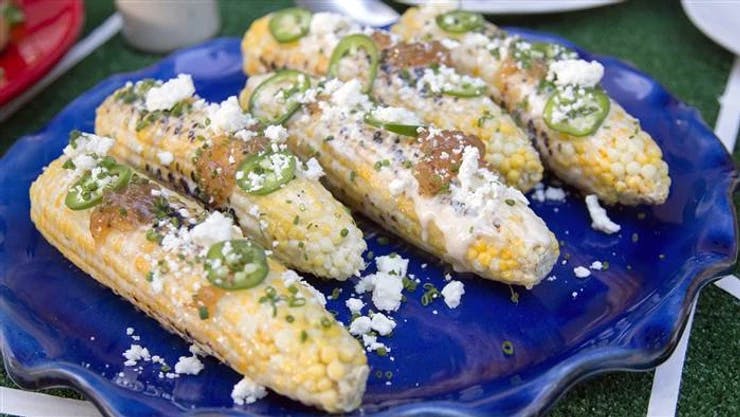 Cook time: 5 minutes
Prep time: 20 minutes
Servings: 4
I am a huge fan of Mexican street corn so I was inspired by the flavors and ingredients of New England to put a Northeastern spin on this Mexican classic.
Technique tip: Smearing the corn with mayo is an easy way to boost its flavor and helps make all the seasonings stick.
Ingredients
Maple mayo
1 cup mayonnaise
1 tablespoon red wine vinegar
2 tablespoon pure Vermont maple syrup
Salt and freshly ground black pepper, to taste
Bacon jam
1/2 cup applewood smoked bacon, cooked and minced
1/2 cup Spanish onion, minced 1 clove garlic, minced
1/8 teaspoon crushed red pepper flakes
1/2 cup black coffee
2 tablespoons pure Vermont maple syrup
2 tablespoons cider vinegar
2 tablespoons brown sugar
Salt and freshly ground black pepper, to taste
To cook and serve
4 ears corn, shucked
1 cup crumbled farmer's cheese
1 cup maple mayo (recipe above)
1/2 cup bacon jam (recipe above)
1 jalapeño, very thinly sliced
2 tablespoon minced chives
Preparation
For the maple mayo:
In a bowl, combine all the ingredients and stir well to combine. Cover and refrigerate until ready to serve.
For the bacon jam:
In a medium saucepan, over medium heat, combine all the ingredients. Simmer, stirring occasionally, until thickened and the mixture is a jam-like consistency.
To cook and serve:
1. Preheat the grill to medium-high heat.
2. Grill the corn until nicely charred and fully cooked.
3. Spread the maple mayo all over the corn and top with the bacon jam, crumbled cheese, sliced jalapeno, and chives.