Pork Tenderloin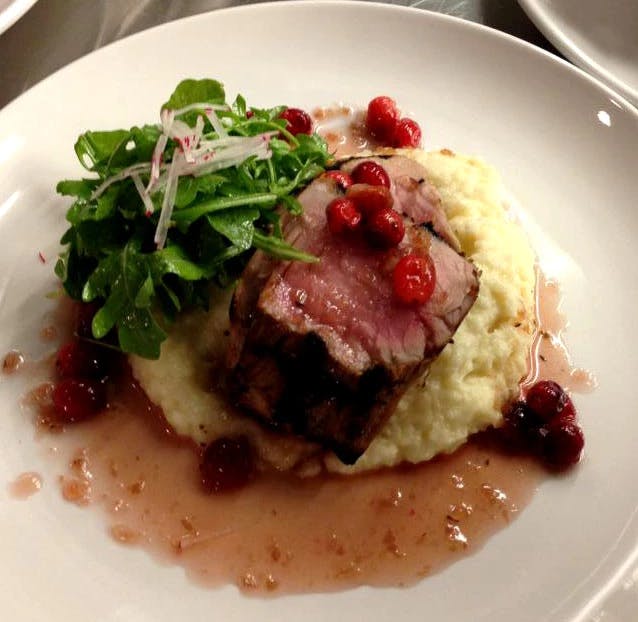 Apple Cider Brined Pork Tenderloin
Fresh cherry glaze, buttermilk mashed, baby arugula
Serves 3
Cider Brine
¾ cup salt
¾ cup sugar
4 cups hot water
2 cups apple cider
1 tsp. chile flakes
1 bay leaf
1/2 cup garlic cloves
2 tbl. dried thyme
1/2 tsp ground cinnamon
1 small white onion, julienned
Mix all ingredients then add hot water & mix until dissolved. Chill
Pork Tenderloin
1 large pork tenderloin or approximately 1 ½
Trim the pork tenderloin of any excess fat and silver skin.
Add pork to brine and let sit overnight.
Brush the grill with vegetable oil. Remove the tenderloin from the brine and season with s&p then place in the center of grate.
Discard brine.
Cook for 12 to 15 minutes, turning every 1 1/2 to 2 minutes, until the tenderloin reaches an internal temperature of 130°F.
Fresh Cherry Glaze
1 cup pure Vermont maple syrup
3 tbl. butter
2 tbl. red onion, minced
4 garlic cloves, minced
1 cup mixed variety fresh cherries, halved
2 tsp. dried thyme
2 tsp. white vinegar
s&p tt
Bring to a quick boil then shut off and add cherries
Buttermilk Mashed
1 ½ # yukon gold potatoes, peeled & cut into1 ½-inch cubes
¼ cup heavy cream
5 tbl. butter, chilled
½ cup buttermilk
s&p
In a large pot add 2 quarts of water and the potatoes, simmer uncovered for 10 to 15 minutes, until the potatoes are cooked. Meanwhile, heat the cream and set aside until the potatoes are done. As soon as the potatoes are tender, drain them in a colander. Place a food mill fitted with a small disk/blade over a bowl. Pass the potatoes through the food mill. As soon as the potatoes are mashed, stir in the hot cream and cold butter with a rubber spatula.