Rhode Island Style Chicken Wings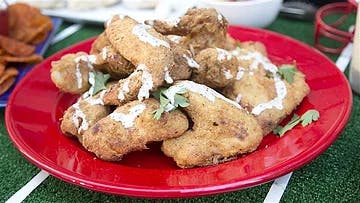 Cook time: 1 hour 15 minutes
Prep time: 25 minutes
Servings: 4
I love this recipe because it's the best and most flavorful fried chicken I have ever had. The pepper relish adds a bit of freshness, while the white barbecue sauce ties it all together for a very well balanced and easy to eat game day dish.
Technique tip: Cooking the chicken in the style of confit makes it very tender and ensures that it is completely cooked before frying.
Ingredients
Confit chicken wings
16 chicken wings
8 cups canola oil
Roasted pepper relish
1/2 cup roasted pepper strips, peeled and seeded
1/4 cup pepperoncini, sliced
1/4 cup Italian hot banana peppers
3 tablespoon extra virgin olive oil
1 tablespoon lemon juice
2 cloves garlic, minced
1 tablespoon roughly chopped flat leaf parsley
Salt and freshly ground black pepper, to taste
White barbecue sauce
1/2 cup mayonnaise
1½ teaspoons prepared horseradish
1½ teaspoons water
1½ teaspoons freshly ground black pepper
1½ teaspoons whole grain mustard
1½ teaspoons granulated garlic
1 tablespoon cider vinegar
1 tablespoon lemon juice
1 tablespoon light brown sugar
1/2 teaspoon Worcestershire sauce
1 pinch cayenne
1 pinch ground cumin
1 pinch chili powder
Marinade
4 cups buttermilk
1/4 cup hot sauce, preferably Frank's RedHot
16 confit chicken wings (recipe above)
Dredge
1/4 cup lemon pepper
1/4 cup granulated garlic
1 tablespoon Old Bay seasoning
2 teaspoons crushed red pepper flakes
2 teaspoons dried oregano
4 cups masa harina flour
4 cups all-purpose flour
4 teaspoons salt
2 teaspoons freshly ground black pepper
1/2 teaspoon cayenne pepper
To cook and serve
Oil, for frying
Chopped parsley, for garnish
Roasted pepper relish (recipe above)
White barbecue sauce (recipe above)
Preparation
For the confit chicken wings:
Preheat oven to 300°F.
Place the chicken wings in a baking pan, pour the oil over the chicken and cover with aluminum foil. Place in the oven and bake for 1 hour. While the wings cook prepare the red pepper relish and white barbecue sauce.
For the roasted pepper relish:
In a bowl, mix all the ingredients together until well combined. Cover and set aside until ready to serve.
For the white barbecue sauce:
In a bowl, stir together all the ingredients until well combines. Cover and set aside in the refrigerator until ready to serve.
For the marinade:
In a large zip top bag or container with a tight fitting lid, stir together the buttermilk and hot sauce. Add the chicken wings to the mixture. Cover or seal and see tint the refrigerator to marinate for at least 1 hour.
For the dredge:
In a large bowl combine all the ingredients. Mix well to distribute all the ingredients evenly.
To cook and serve:
1. Heat a large heavy pot with about 2 inches of oil to 350°F.
2. Remove the wings from the marinade and shake off any excess. Then coat the wings in the dredge.
3. Fry the wings for 4-5 minutes. Once crisp and golden, remove from the fryer and set on a paper towel-lined plate to absorb any excess oil.
4. Season the wings with salt and pepper, garnish with chopped parsley and serve with roasted pepper relish and white barbecue sauce on the side.