Sharp Cheddar Kettle Chips and Buttermilk Onion Dip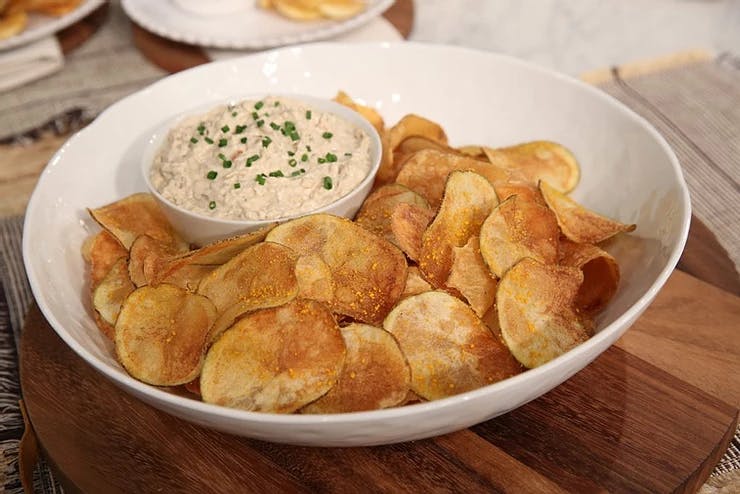 Get ready for a truly addictive snack. This chip and dip combo from Chef Jason Santos' cookbook Buttermilk & Bourbon is a fan favorite and is sure to become a party staple. You may not need all of the sharp cheddar spice, but use the rest wherever you need a little extra flavor — may we suggest popcorn, for instance?
Sharp Cheddar Kettle Chips and Buttermilk Onion Dip
Serves 4
Ingredients
For the buttermilk onion dip:
2 tablespoon extra-virgin olive oil
1 pound Spanish onions, peeled and minced
1/4 teaspoon granulated garlic
1 teaspoon celery salt
2 teaspoons dried thyme leaves
1 tablespoon granulated sugar
3 tablespoons Worcestershire sauce
1/4 teaspoon ground white pepper
1/2 teaspoon sea salt
1 1/2 cups sour cream
3/4 cups mayonnaise
For the sharp cheddar spice:
1/2 cup cheddar cheese powder (from an instant mac and cheese box)
2 teaspoons powdered thyme
2 tablespoons garlic salt
2 tablespoons onion powder
For the potato chips:
2 large russet potatoes, scrubbed clean
8 cups canola oil, for frying
Sea salt, to taste
Freshly ground black pepper, to taste
Directions
1. Make the buttermilk onion dip: In a sauté pan over medium heat, add oil and the onions. Cook until caramelized, about 15 minutes. Transfer to a large bowl and let cool. Stir in garlic, celery salt, thyme, sugar, Worcestershire sauce, white pepper, salt, sour cream, and mayonnaise until well combined. Refrigerate until serving.
2. Make the sharp cheddar spice: In an airtight container, mix together cheese powder, thyme, garlic salt, and onion powder. Seal and store until needed.
3. Make the potato chips: Using a mandolin or a very sharp knife, slice the potatoes into thin rounds, about twice the thickness of a normal chip, and place in a large bowl of water to prevent discoloration.
4. In a large, heavy pot over medium heat, heat oil to approximately 340 degrees. Drain and pat the potatoes completely dry. Fry in batches until golden brown, about 2 minutes. Drain on paper towels and while still warm, season with salt, pepper, and sharp cheddar spice.
5. Serve potato chips with dip.