Warm Crab Dip with Cape Cod Kettle Chips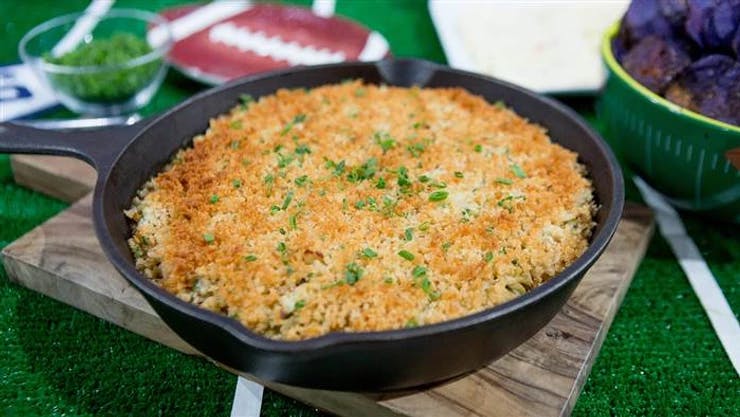 Cook time: 20 minutes
Prep time: 20 minutes
Servings: 4
I love this dip because it's a much lighter version than the usual overly-creamy and heavy crab dips. It packs boatloads of fresh flavor without being too rich.
Technique tips: Kettle chips will stay fresh for a few days when stored in an airtight container.
Ingredients
Cape Cod seasoning
1 tablespoon salt
1 tablespoon bay leaves, ground
2½ teaspoon celery salt
1½ teaspoon dry mustard
1½ teaspoon freshly ground black pepper
3/4 teaspoon ground nutmeg
1/2 teaspoon ground cloves
1/2 teaspoon ground ginger
1/2 teaspoon paprika
1/4 teaspoon cayenne
Kettle chips
1/2 gallon canola oil
2 large purple potatoes, scrubbed clean
Cape cod seasoning (recipe above)
Salt, to taste
Buttered breadcrumbs
1/2 cup panko crumbs
1 tablespoon Romano cheese, grated
2 tablespoons butter, melted
Crab dip
2 tablespoons mayonnaise
2 ribs celery, minced
2 shallots, minced
2 tablespoons finely grated fresh horseradish
2 tablespoons minced Italian parsley
2 teaspoons chopped fresh thyme leaves
1 tablespoon Dijon mustard
1/2 teaspoon crushed red pepper flakes
1/4 cup freshly squeezed lemon juice
Salt and freshly ground black pepper, to taste
1 cup fresh lump crab meat
Chives, chopped, for garnish
Preparation
For the Cape Cod seasoning:
In a bowl, combine all the ingredients and mix well.
For the Cape Cod kettle chips:
1. Heat the canola oil in a kettle or heavy pot until it reaches 325°F.
2. While the oil heats, line a large bowl with paper towels.
3. On a mandoline or with a sharp knife, cut 8 to 10 slices of the potato, widthwise, to about the thickness of a quarter. Carefully add some potato slices to the hot oil. Constantly move the slices in the hot oil for 3 to 4 minutes or until golden brown and crisp. Remove the chips with a slotted spoon allowing some of the excess oil to drain off. Move the finished chips to the lined bowl and shake to remove additional oil. Adjust the heat as necessary to maintain 325°F. Continue slicing and frying the potatoes in small batches.
4. When the final batch has finished frying, remove the paper towels from the bowl and sprinkle the chips with the Cape Cod seasoning and shake the bowl to evenly distribute. For the buttered breadcrumbs: In a bowl, combine all ingredients and mix well.
For the crab dip:
1. Preheat oven to 450°F.
2. Place all the ingredients, except the crab and chives, in a bowl, and mix well. Using a rubber spatula lightly fold in crabmeat to mix without breaking crab up too much.
3. Place dip into small cast iron pan and top with the buttered breadcrumbs place in oven. Bake for 10-15 minutes until breadcrumbs are nicely browned. Garnish with fresh chives and serve hot with kettle chips on the side.